The best part about having a husband is being able to steal his clothes, right? Nicole from Blonde in the Burbs thinks so! She also discovered an amazing secret- shop where your husband shops and you can have all that coziness for yourself. Her husband's top choice? Our very own Southern Marsh pop-up here at Market Street- hurry in, it won't be here forever!
We think Nicole is a Southern Marsh convert, but read her blog post all about their family trip and decide for yourself!
---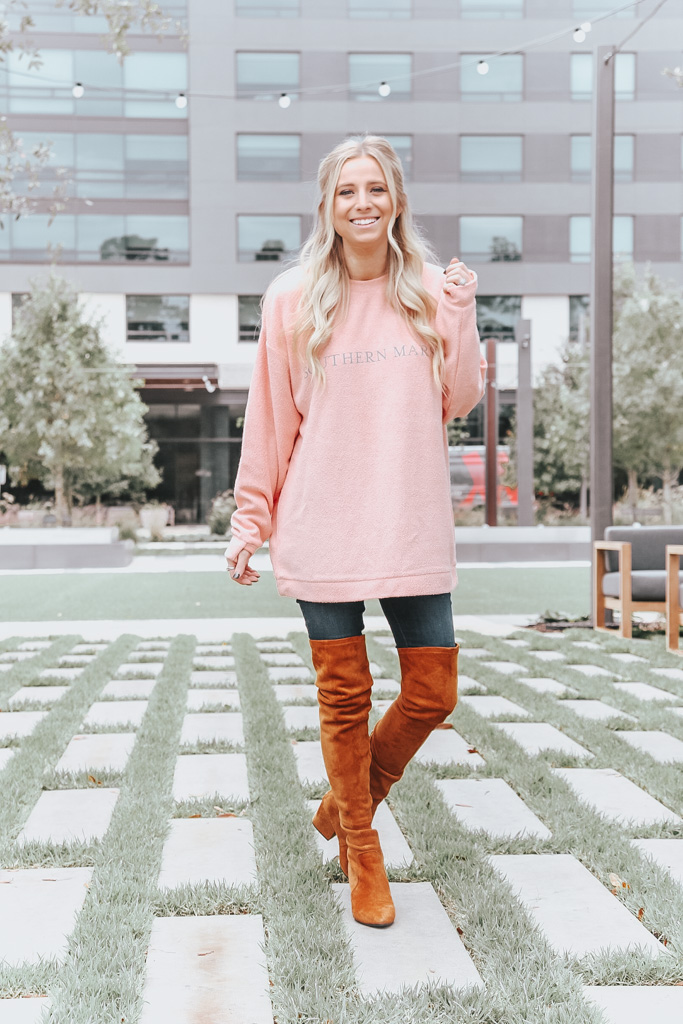 Do any of your husband's or significant other's favorite brands slowly also become your own? That's how I feel about Southern Marsh. It's been one of Mason's absolute favorite brands for a long time! I hadn't bought anything for myself specifically until recently from there. I say for myself specifically, because I always steal Mason's clothes and I would steal this one Southern Marsh pullover in particular because it's so comfortable! That's one great thing about Southern Marsh, most of the shirts, sweaters and pullovers can be worn by both men and women. So ladies, that means you can easily steal your man's clothes and pass them off as your own!
I gathered up the whole family last weekend and we stopped by the new Southern Marsh store at Market Street in The Woodlands! The store is so cute and has so many goodies for the entire family. As y'all know, I live for online shopping, but when you can go in to store and try things on when needed, that can't be beat! Everyone was so helpful but not too overbearing which is THE worst while shopping. Who do you think needed a dressing room? Me or Mason? I think you'll be surprised, it wasn't me!!! Not only do they have men and women's clothing, they have kids clothes!! Which are hands down the cutest items in the whole store because tiny clothes are just so dang cute.
Mason obviously didn't complain about me dragging him to go shopping for maybe the first time ever 😉 He was in his element while shopping at Southern Marsh and we probably could have drained the bank account on everything he wanted to get! Mason chose a pullover which can easily be dressed up or down. I haven't stolen this pullover quite yet since Mason is still on high alert for it because it's so new! He told me that I had to gush over how "warm and comfy" it is and I'm a woman of my word. If I could ask for one thing in clothing, comfy is definitely at the top of the list, if not the most important thing on the list. I snagged two pullovers from the shopping trip, one that is definitely more casual but they are equally as cute. I'm looking forward to pairing these pullovers so many different ways, with jeans and leggings! If you're looking for a store to buy your family or husband a Christmas present, you should stop in at Southern Marsh at Market Street because then you can also just "accidentally" buy some things for yourself too! Thanks so much for reading!