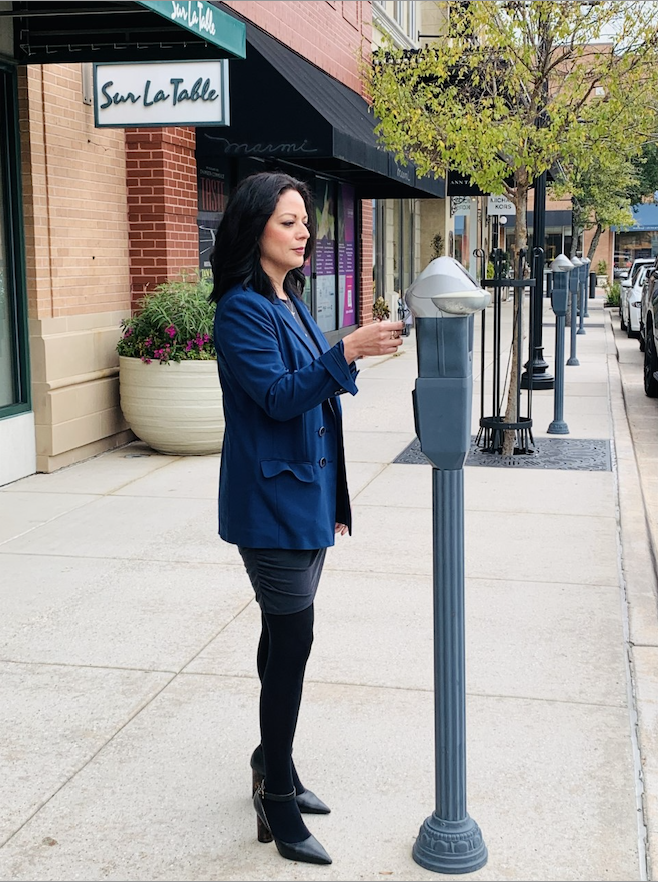 THE WOODLANDS, TX (January 13, 2022) – Four Montgomery County charities will benefit from the thousands of dollars in change inserted in Market Street's premium parking meters throughout 2022 as the shopping, dining and entertainment destination announces the beneficiaries of the 2022 Change for Charity program: St. Baldrick's Foundation, Sleep in Heavenly Peace, All Ears! Listening and Language Center, and Crisis Assistance Center.
The Woodlands Car Club also generously raises money for the Change for Charity recipients throughout the year at their events, held the first Sunday of each month.  Their contributions, coupled with the amount donated to Market Street's 68 parking meters make up the total amount given to a selected charity each quarter.
"Our team at Market Street is honored to make an impact in the community we serve by partnering with local charities," says Noemi Gonzalez, marketing director at Market Street.  "Our shoppers have contributed more than $250,000 to the Change for Charity program since its inception."
The program's first-quarter beneficiary, St. Baldrick's Foundation, is a volunteer and donor powered charity committed to supporting the most promising research to find cures for childhood cancers and give survivors long and healthy lives.  St. Baldrick's Foundation is the largest non-government funder of childhood cancer research grants.
The second-quarter beneficiary, Sleep in Heavenly Peace, is a volunteer run organization dedicated to building, assembling, and delivering top-notch bunk beds to children and families in need. The organization believes all children deserve a safe, comfortable place to lay their heads and prevent children in need from sleeping on couches, blankets, and floors.  
All Ears! Listening and Language Center, the program's third-quarter recipient, believes that children who are deaf or hard of hearing can learn to listen, talk, read, and write on the same level as their hearing friends with help from their parents.  All Ears!' program goal for each child is to prepare him/her to enter mainstream kindergarten.  All Ears! promotes education in regular schools with typical hearing peers as an integral element of the child's journey toward independence and participation in the hearing world at large.
Market Street's Change for Charity fourth-quarter beneficiary, Community Assistance Center, is a non-profit social services organization that provides basic needs services and long-term case management to individuals and families throughout Montgomery County who are struggling through times of financial hardships. Community Assistance Center provides essential assistance programs, services, and resources to help stabilize their situation during these difficult times by initially providing for basic needs and long-term solutions.
About Market Street
Market Street – The Woodlands is a 560,000 square foot outdoor lifestyle mixed-use property located in The Woodlands, Texas, approximately 25 miles north of Houston across from the Cynthia Woods Mitchell Pavilion.  The grocery anchored property contains 375,000 square feet of street level retail, combined with 115,000 square feet of Class A office space and a 70 room 70,000 square foot Hyatt Centric hotel in addition to 21 restaurants and eateries. Trademark Property Company manages the project, including development, leasing and property management services. Market Street is owned by a joint venture between an affiliate of Trademark Property Company and Institutional Mall Investors.  
For additional information on Market Street, visit https://shopatmarketstreet.com.
About Trademark Property Company
Trademark Property Company is a full-service real estate firm focused on investments, development and institutional services of experiential, mixed-use and daily needs properties. In its 29 years of business, Fort Worth, Texas-based Trademark has invested in, developed or redeveloped 21 million square feet of mixed-use, multifamily and retail assets worth $4.5 billion. Trademark's experienced team of more than 185 employees is currently responsible for a 16-property portfolio totaling approximately 10.5 million square feet of mixed-use and retail projects across the country. A leader in navigating the changing mixed-use real estate landscape, Trademark's purpose is to be extraordinary stewards, enhance communities and enrich lives. For more information, visit www.trademarkproperty.com or interact on Facebook, LinkedIn and Instagram
# # #