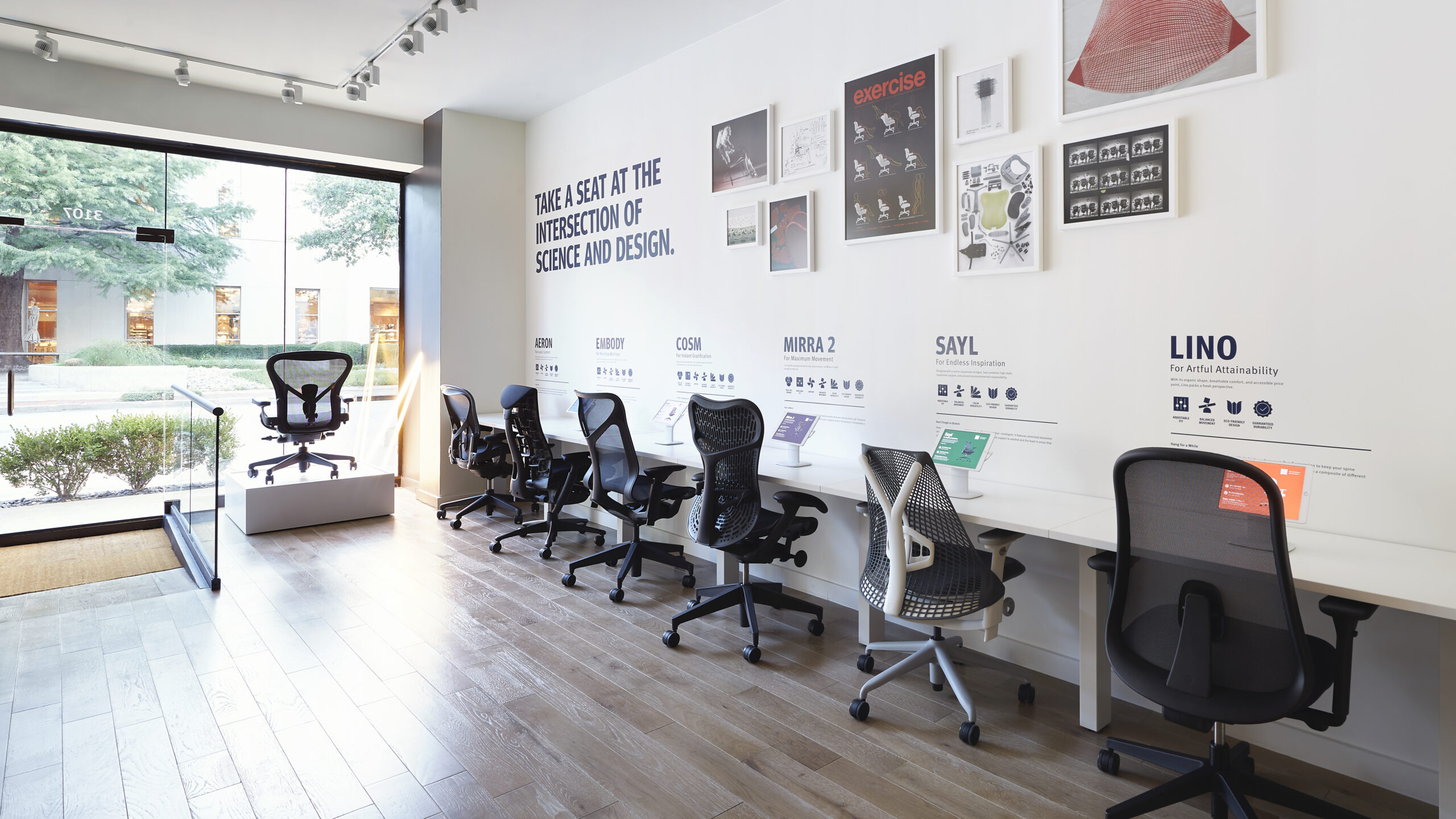 January 2022  – HERMAN MILLER EXPANDS RETAIL PRESENCE IN TEXAS WITH NEW STORE  OPENING IN HOUSTON 
The global design leader debuts eleventh retail location dedicated to ergonomic home  office seating solutions, expanding presence in Texas following openings in Austin and Dallas   
Herman Miller, the global leader in innovative design and furnishing solutions and a part of the MillerKnoll  collective (NASDAQ: MLHR), announces today the opening of a new retail location in Houston, the brand's  third Texas store. Situated in Market Street – The Woodlands shopping district, the new location supports  Herman Miller's commitment to supporting Texas' small business owners and those working from home in  providing the brand's full range of performance seating options and office essentials. Originally developed  as an immediate response to customer demands and the shift to working from home, the seating store  concepts allow consumers to experience the benefits of sitting well first-hand and invite them to test drive  each product in a new way.  
"People deserve to feel supported, dedicated, and motivated during the duration of their workday, and an  optimal environment is essential for this," said Debbie Propst, President of Global Retail for MillerKnoll.  "We're listening to our customer base and continuing to expand our network of retail locations to ensure  everyone can receive guidance and support to create their ideal workspace." 
Expertly designed to assist customers make informed and confident purchasing decisions, Herman Miller  Houston's 1,775 square-foot store has dedicated ergonomic specialists on-hand to help shoppers discover  the right solutions for their individual needs. 
"Optimizing the well-being of our customers through problem-solving designs that can help improve health  and productivity is at the heart of what we do," said Propst. "Houston is a strong market for us, and we're  looking forward to welcoming customers from The Woodlands community and beyond to discover the  offerings in our new space."  
On-site, visitors can test and compare Herman Miller's innovative solutions for the home office and the  different features of its award-winning performance seating portfolio, all backed by decades of ergonomic  research and developed to support long-lasting, health-positive benefits including postural distribution of  weight, a key to healthy circulation and focus. Customers can also experience the offerings' adjustment  capabilities such as breathable suspension materiality and backrest adjustments, along with customizable  finishes and stylish details. If customers prefer to start exploring offerings online, the chat function on the  Herman Miller website allows shoppers to experience the stores virtually through a personalized one-on one video call feature. 
While some retailers shift away from brick-and-mortar stores, MillerKnoll Global Retail – comprised of  Herman Miller, Knoll, Design Within Reach, Fully and HAY, has taken a different approach with its omni channel expansion strategy.  
Herman Miller Houston will be open starting Tuesday, January 11, Monday–Saturday: 10am–7pm; Sunday:  11am–6pm, at 9595 Six Pines Dr, Suite 1060, The Woodlands, TX 77380.  
For more information, please visit hermanmiller.com or contact [email protected].
###
About Herman Miller 
Herman Miller is a globally recognized leader in design. Since its inception in 1905, the company's  innovative, problem-solving designs and furnishings have inspired the best in people wherever they live,  work, learn, heal, and play. In 2018, Herman Miller created Herman Miller Group, a purposefully selected,  complementary family of brands that includes Colebrook Bosson Saunders, Design Within Reach, Geiger,  HAY, Maars Living Walls, Maharam, naughtone, and Nemschoff. Guided by a shared purpose—design for  the good of humankind—Herman Miller Group shapes places that matter for customers while contributing  to a more equitable and sustainable future for all. For more information visit www.hermanmiller.com/aboutus.  
About MillerKnoll  
MillerKnoll is a collective of dynamic brands that comes together to design the world we live in. MillerKnoll  includes Herman Miller and Knoll, plus Colebrook Bosson Saunders, DatesWeiser, Design Within Reach,  Edelman Leather, Fully, Geiger, HAY, Holly Hunt, Maars Living Walls, Maharam, Muuto, naughtone, and  Spinneybeck|FilzFelt. MillerKnoll is an unparalleled platform that redefines modern for the 21st century by  building a more sustainable, equitable, and beautiful future for everyone. 
Media Contact 
The Consultancy PR